Leadership Development Program
Leadership coaching for the organisation
Strong leadership is the foundation of professional success. Effective leadership at all levels of an organisation increases the organisational capacity to respond to challenges and find solutions. Result? Genuine competitive advantage! Focused leadership development and training helps champions acquire key organisational skills.
Bravo Career's leadership development program will help you grow into the champion of your company. We will teach you how to motivate, inspire and create an aura of positivity that brings out the best in everyone in the organisation.
Everyone has their own unique style when it comes to leadership, and our training and development process aims to blend your personality with proven skills that true leaders practice in their careers and personal life.
Leaders aren't born overnight – leaders are nurtured through constant encouragement and motivation. Our leadership training program focuses on personal and interpersonal development so that you obtain a deep understanding of the varying behaviours of everyone under your workforce.
Leadership coaching for the organisation
The Bravo Careers team listen – so we understand the unique leadership needs of your organisation.
Our in-depth leadership development and coaching will help you recognise and unlock the full potential of your employees – identifying their core strengths and areas for further improvement and assisting them to be positive leaders within the work environment.
Bravo Career's leadership coaching is tailored to suit the culture and vision of each organisation that we work with. We understand the importance of utilising the true values of a company to create new and innovative leaders, who will someday become the face of your company.
Leaders from all levels of an organisation are seen as influencers and they can play a decisive role in the leadership development of top performers and recruitment of new talent. By creating champions amongst your organisation's key employees, their increased motivation and success has a positive flow-on effect, raising the bar to lift the performance of all those around them.
It's a smart way to create great value from our leadership coaching expertise – genuine results that deserve applause.
You'll benefit from our comprehensive leadership assessment criteria, tools and processes to establish a performance-based culture where success is celebrated. We'll work with you to ensure you develop the ability to acquire the knowledge to make informed business decisions in the future.
Our knowledgeable Bravo Careers executive coaches will enhance your existing leadership development initiatives and work with you to:
Develop a culture of creating champions and celebrating success
Introduce citizenship programs that inform executive leadership
Ensure that leadership and the organisational brand are linked
Leadership requires many attributes. At Bravo Careers, we work with your management to develop courage, insight and a shared sense of meaning and purpose.
Leadership coaching for the individual
Our Bravo Careers team appreciate the unique needs of each individual we work with – recognising your potential and motivation for change and nurturing the evolution of your professional growth.
Our leadership development training enables you to:
Take up your role in the organisation
Have courageous discussions with your management and others in your work environment
Leverage off your existing leadership potential
Identify key behaviours that may require re-alignment with organisational expectations
Encourage and foster participation in any new learning cycle that may be needed
Deal with any personal issues that arise as a result of change
The reason why Bravo Career's leadership development coaching is so highly regarded is that we believe in the benefits of genuine engagement – a connection that broadens your options, nurtures the champion within you and helps you achieve your long-term leadership goals.
It's about your professional and personal liberation – providing you with the knowledge and insights to shift your thinking and learn how to recognise and fully appreciate the genuine value you offer.
At Bravo Careers, your success matters and we applaud it at every important step in your career progression.
Our leadership development training you develop key leadership skills that provide you with the skills and confidence to challenge and inspire team members to work towards goals set by you. How you self-manage is critical and at Bravo Careers we ensure you have the knowledge and understanding to overcome obstacles and eliminate behaviour that sabotages your success.
Essential to your success as a leader will be identifying your:
Leadership style – how do you assume authority?
Aspirational goals – what drives you forward?
Purpose and value proposition – how should others engage with you?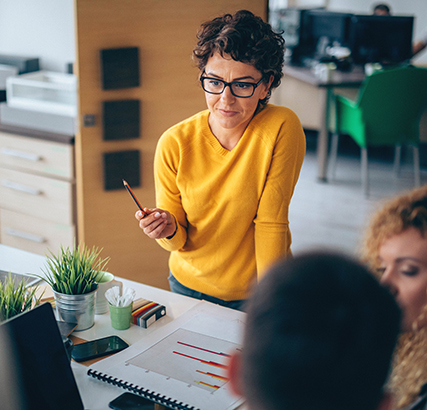 Find the right services for your needs
Bravo Careers are your partner in career and professional development coaching. We encourage you to be curious about your needs, explore our services and reach out to us. We will be delighted in speaking with you.